Bedford Beauty News Magazine Issue 1


Microdermabrasion Skin Re-surfacing
Microdermabrasion is one of the most popular non-surgical aesthetic procedure performed today, second only to BOTOX® injections. It can be effective in treating acne scars, age spots, sun damage and crow's feet. If you have fine lines and wrinkles, microdermabrasion may be for you. It is highly beneficial for a person who has aged skin or skin that has been damaged by overexposure to the sun. Microdermabrasion treatments polish and soften the skin, reducing fine lines on the face. However, not all wrinkles can be treated using microdermabrasion.
What is Microdermabrasion?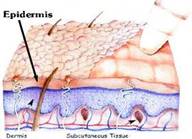 Microdermabrasion was developed in Italy in the mid-1980s as a clinical way to treat the raised scars of burn victims and visibly smooth their skin. Doctors quickly noticed dramatic cosmetic improvements to skin resurfaced with microdermabrasion and began testing the treatment on men and women to reduce acne scars, pigment discoloration, and fine lines and wrinkles. After extensive clinical tests proved its efficacy and safety, microdermabrasion was reclassified as a spa treatment in the U.S. in 1998.
Why Microdermabrasion?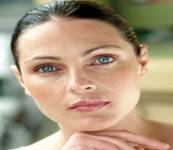 First and foremost, microdermabrasion can benefit all skin types, sensitivity and ethnicity.
Unlike treatments that utilise exfoliating chemicals, resurfacing lasers, or pulsed light, microdermabrasion is safe and effective for almost everyone, including clients with sensitive, aging/mature, and even acneic skin conditions. The results of microdermabrasion are instant as well as cumulative. After all, every one looks for safe and effective ways to reduce fine lines, wrinkles, pore size, and hyper pigmentation, as well as to improve overall skin texture and radiance.
CACI Face-up Orbital Microdermabrasion
Here at Beauty Rituals we are launching the latest technology in skin resurfacing, the CACI Face-up. CACI Face-up is unlike most microdermabrasion it's a new orbital skin re-surfacing technology with mechanical micro pulsations. It uses a patented hand-peace that rotates on an elliptical axis, the heads are coated with an anti-allergy layer of silicon carbide which gently exfoliates the superficial layers of the epidermis. This means that a variety of single use disposable heads are used to ensure hygiene, cleanliness and safety. It's crystal and vacuum free! so no more dragging or pulling of the skin, and no more inhalation or irritation. The elliptical rotation of the abrasive head removes all imperfections and impurities at any angle, leaving skin clearer, smoother and firmer, while the micro pulses massage and tone the skin at the same time leaving you with an immediate lifting effect. Triggering the generation of collagen and elastin, improving circulation and making the treatment particularly relaxing. The results are visible after just one treatment, the complexion is clearer, smoother and the skin firmer, improving circulation and making the treatment particularly relaxing. The results are visible after just one treatment, the complexion is clearer, smoother and the skin firmer!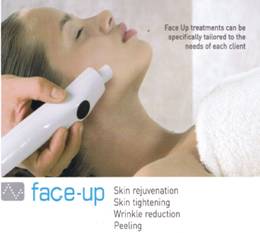 Most Advanced New Technology in microdermabrasion. Results are visible after just one treatment, used to treat and reduce :
Wrinkles and Scars
Skin discoloration
Age Spots
Open Pores
Clearer smoother complexion
Firmer Skin
Blackheads and Blocked pores

The face-up microdermabrasion treatment is crystal free, no inhalation or irritation, Vacuum free no dragging or pulling the skin. Disposable treatment head for maximum hygiene.
CACI Face-Up Microdermabrasion £55
CACI face-up Course of 10, £450 - Course of 6, £300.